Kakitangan.com and Fi Life have teamed up to offer direct life protection for users of the Kakitangan.com payroll and leave management web app. Through the Kakitangan.com's web app, users are now able to obtain personalised quotes to insure their lives against death, critical illness and total and permanent disability, for the benefit of their families and dependants.
This personalised life insurance service is part of Kakitangan.com's expansion into employee benefits offerings, in addition to its existing payroll, expense claims management, and leave management service.
Fi Life's life, critical illness and total and permanent disability protection are offered to Kakitangan.com users on an individual basis. Premium payments are the responsibility of the user. But this means that, even if the user were to leave the employment of their company, they will continue to enjoy the benefits of Fi Life's protection.
Although premium payments are the responsibility of the user, Fi Life and Kakitangan.com would encourage employers to reimburse their premium expense during their term of employment as their employee benefits package.
The process for users to enrol into Fi Life's protection programme is a seamless one. Each user receives a personalised quote based on their age, sex and smoking status (see illustration below). After getting the quote, users can give consent to essential details like NRIC, address and employer details to be passed to Fi Life, so that their online application can be pre-filled for a faster experience.
Effon Khoo, CEO of Kakitangan.com, outlined Kakitangan.com's objective with the Fi Life partnership:
"This is the first step for Kakitangan.com to expand on employee benefits offerings for Kakitangan.com's customers and employees. We hope to build on our partnership with Fi Life to empower SMEs' people operations and experience, and hence strengthen the SME as an organization."
Tan Jiann Meng, General Manager and co-founder of Fi Life, commented:
"Fi Life believes that life, critical illness and total and permanent disability protection is of utmost importance for all employees with dependents. Through this partnership with Kakitangan.com, Fi Life makes access to these critical protection products that much easier".
Image 1 - Fi Life Image 1: Interface on Kakitangan App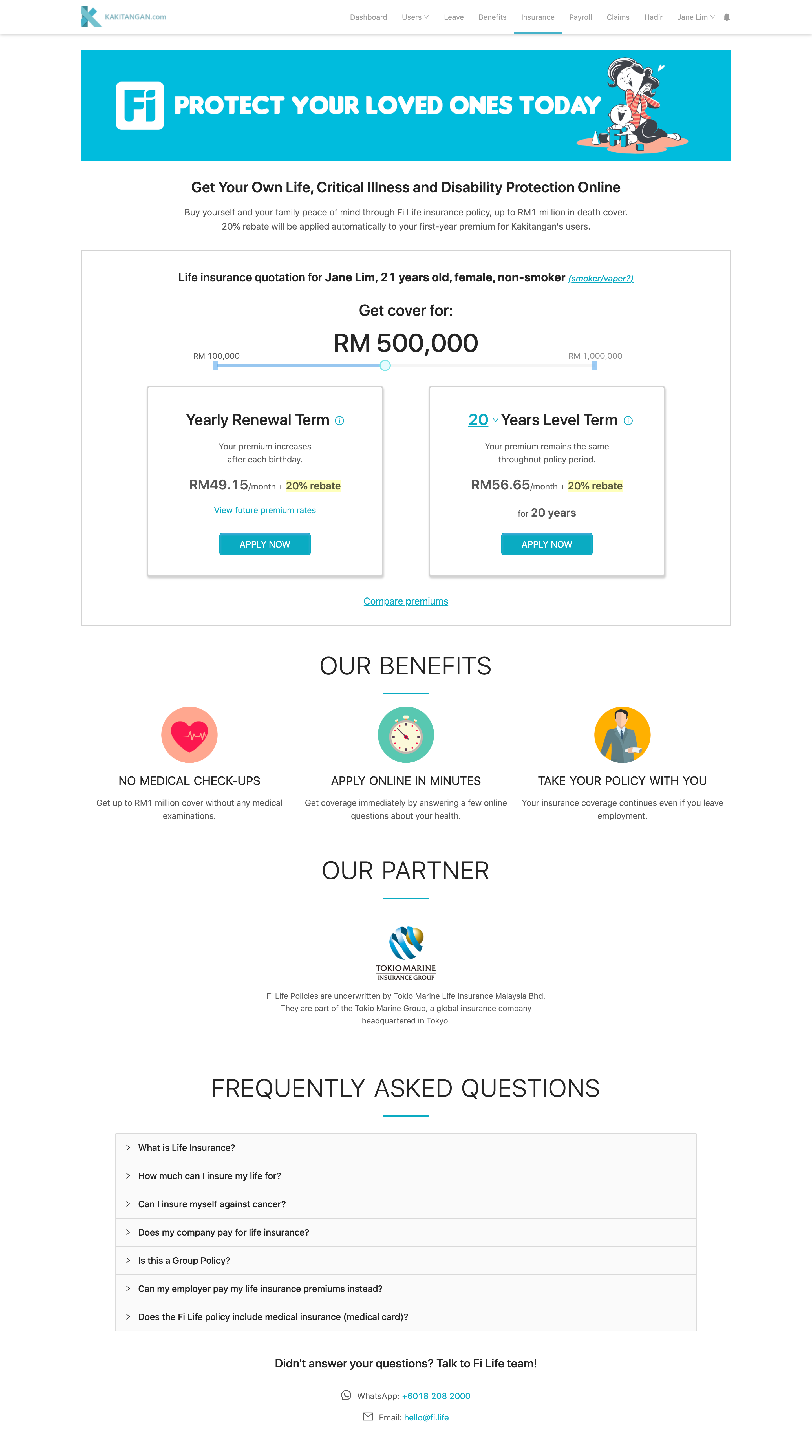 About Kakitangan.com
Kakitangan is an online human resources (HR), payroll and expense claim platform for small- and medium-sized enterprises (SMEs) in any industry. The mobile-friendly platform allows users to effectively manage their payroll, leave applications, employee benefits, expense claims and HR-related documents in a central location. Our mission is to save time for busy HR and finance executives, managers and small business owners can focus on what really matters - growing their businesses.
Actively serving more than 5,000 SMEs and 50,000 employees, Kakitangan.com has processed over RM 2.5 billion in payroll since 2016, making it the main leader in Malaysia's online payroll industry.